PROMO Pass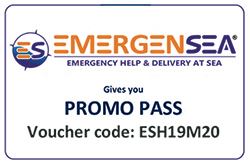 ---
Welcome to EMERGENSEA network!
Your PROMO Pass Voucher worth 30 EUR! Expend it in our web-shop.
Your can use your PROMO Pass in two ways!
1. 1. Voucher code can be used for purchasing START Pack by click on Activate package/BUY and thus become an Emergensea member. With START Package you get:
30% discount on ES services in Croatian territorial waters
Free access to interactive smart phone APP ( regular price 30 EUR)
Priority in case of intervention
2. Second way to use your Voucher Code of 30 EUR is to purchase one of our Packages with free assistance included. This voucher is an ideal opportunity to get the free assistance at a discounted price.
If you want to use your Voucher for this, please visit our ES Packages with free assistance ( categories according the length of the boat). After choosing the appropriate package, procedure of registration and purchase is very simple and will lead you the end of buying process. Your Emergensea membership card will be sent to your postal address within 10 days of activation or purchase.
Note: START Package is activated immediately upon registration. All other packages are active 24 hours after the payment. Both memberships are valid one year from the date of activation.
We advise you to keep your membership card available on the boat
Your EMERGENSEA Team