Good news from Premium Yacht Insurance by Jack Surija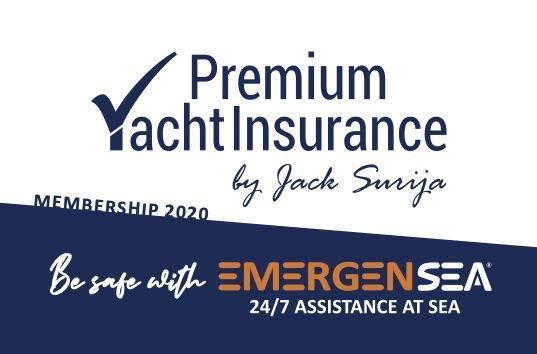 Good news from Premium Yacht Insurance by Jack Surija
Premium Yacht Insurance by Jack Surya and EmergenSea Net,
assist their clients in times of corona crisis
Here are some good nautical news in corona crisis period! Premium Yacht Insurance by Jack Suria from Poreč, among first, has an incentive and innovative additional service in its insurance policy for boats and yachts. These are two free services of particular importance in the period of corona pandemic:
Boat inspection

they offer boat owners who, due to restrictions, cannot move their boats, the opportunity to inspect their boat at berth at their request: how it is moored, whether the fenders are properly positioned, that everything else on the deck is in order. This way, owners get short reports and some photos. This service is free of charge. If the owners ask for more information about their boat, like for example, a boat inspection, engine ignition, ventilation, battery charging, etc.
Full-blooded free assists at sea when you are already embarking on a cruise, which we are convinced will be soon. It will also be an important novelty - free assistance at sea! Namely, with full insurance policy ( kasko insurance), we are giving you EmergenSea Standard Assistance Free Package for 2020! Why are we talking about "full-blooded" marine assistance, what's the difference? Some insurance providers offer free nautical assistance, which includes a very limited service, that you usually pay in the end. PYI offers the richest, completely free assistance package from the estableshed EmergenSea brand whose network consists of 21 operative base in the Adriatic including Slovenia and Montenegro. In 12 years of experience and continuous collaboration with PYI, EmergenSea has proven over time as a reliable rescue partner. The cooperation between two companies started in 2008 when Emergensea had full operative coverage of the Adriatic coast. The partnership grew stronger in 2016, when it was agreed that all PYI insured boats would receive a 30 percent discount on EmergenSea services. In 2020, this collaboration and trust has brought about these new valuable initiatives.
EmergenSea full-blooded free assistance includes one the following services:
tow up to 10 nm (in case of bad weather to the nearest safe harbor)
boat escort up to 10 nm (in case of bad weather to the nearest safe harbor)
introduction of vessels with limited maneuverability for mooring
easier re-floating
diving for up to 30 minutes (release of propellers from tangled ropes)
delivery of fuel, parts or mechanics
transfer of passengers in distress.
Learn more at: https://www.emergensea.net/en/general_emergense_conditions/14/18 or call Jack:
00385 98 366 223
Note: The only conditions to get the free service are to have Premium Yacht Insurance by Jack Surija full comprehensive insuarance policy for 2020 and the non-commercial use of the boat.